This call was co-sponsored by the Human Rights Funders Network (HRFN)
Socio-environmental funds operate based on the model of community philanthropy or social justice philanthropy (which focuses on the root causes of social, economic, and environmental injustices). These funds are created by local groups and activists, themselves part of the broader socio-environmental movement, who have a unique perspective on the local needs not covered by mainstream philanthropy, and develop local structures that answer to these needs. They fund the most excluded community groups, such as indigenous leaders, who are key protectors of the planet's most important biomes.
Of the top ten countries for tropical primary forest loss in 2021, five were countries where socio-environmental funds were established (Brazil, Bolivia, Indonesia, Peru, and Colombia). Socio-environmental funds in these countries are conscious of the challenges and know that supporting frontline communities defending the forest is one of the most important ways to preserve tropical forests.
TOP 10 COUNTRIES FOR TROPICAL PRIMARY FOREST LOSS IN 2021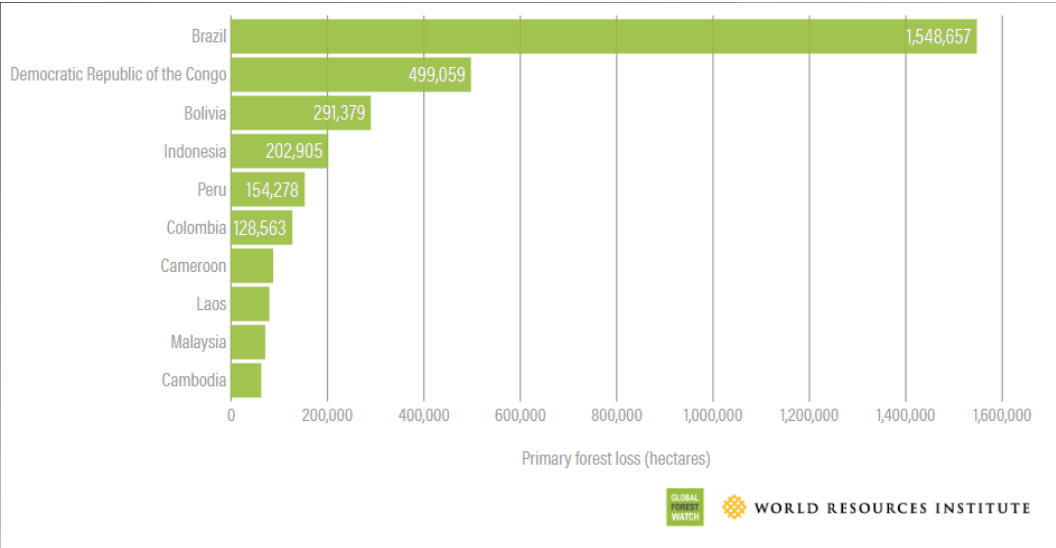 Source: What Happened to Forests in 2021? | Global Forest Watch Blog
TAI held a funder call with three representatives of South American socio-environmental funds to learn more about their model and challenges: Maria Amália Souza, Founder of Casa Socio-Environmental Fund (Brazil), Juan Camilo Mira, Coordinator of Emerger Socio-Environmental Fund (Colombia) and Eduardo Franco, President of Semilla Socio-Environmental Foundation (Bolivia). You can listen to the recording here or download the full video here.
If you would like to learn more about how these funds operate, please read TAI's scoping study on five socio-environmental funds in South America.
Key takeaways from the call:
Mainstream philanthropy is now paying more attention to localization (that is funding locally shaped and led initiatives), but no matter how well-intentioned international funders are and how they adapt their models, the scale to reach local and marginalized communities remains limited.

Socio-environmental funds have been funding locally for years and they know that this is a complex process, requiring a great levels of flexibility and adaptation. Communities don't know philanthropy exists and who to reach out to, therefore, understanding local communities, and building connections and trust is an essential part of the work.

Socio-environmental funds are a bridge for resources to reach these communities. How? By creating local structures that respond to the real needs of these groups, working with local stakeholders, promoting networking, and expanding outreach. "Bridge" is a preferred label compared to "intermediary" which can have negative associations with an extractive "middleman" role.

Socio-environmental funds use transparency, accountability, and participatory tools throughout their work. For instance, thanks to their closeness and constant consultation with communities, they get access to local information in a more timely and accurate fashion. Funding decisions are done collectively, through an independent Advisor Committee, composed of people with thematic and regional experiences.

The Funds, like other civil society organizations, struggle to preserve a safe space for participation. They often face severe public scrutiny (in some countries reporting rules are stricter than for the business sector). This strong government control is often used to curtail the work of human rights defenders.

Intermediaries must build trusted relations not only with communities but also with donors, to be recognized as legitimate partners. However, money for the Global South is most often given through Global North structures or their offices in the Global South. While there is plenty of possibilities to absorb more resources among Global South partners, that potential is not being met. In part, this is due to a significant 'trust gap.' The flexible, long term and significant size gift given by Mackenzie Scott to Casa Fund is a clear statement of trust and is expected to influence other funders. It is grounded on the transparency, accountability, capacity, and efficiency demonstrated by Casa's work. (Stay tuned: HRFN is developing research on the "Trust Gap").

It is necessary for funders to rethink how they measure impact – not imposing their conceptions of what's impactful without consideration for what makes sense for local actors - and to apply systems thinking.

Socio-environmental funds face serious difficulties in obtaining funding from inside their countries. In most cases, 100% of their funding comes from international sources. That said, even international support is limited. For instance, there are billions spent on climate, but local communities and socio-environmental funds see little or nothing of these funds.
Socio-environmental funds contact details:
If you would like to learn more about how the socio-environmental funds work, you can reach out to the speakers:
42 participants joined in the call representing CLIMA Fund, CLUA, Fondo Acción Solidaria, Fondo Ñeque Ecuador, Fondo Semillas Mexico, Fondo Socioambiental Perú, Ford Foundation, Fundo Brasil, Grassroots International, Grupo de Institutos, Fundacoes e Empresas (GIFE), Hispanics in Philanthropy, Human Rights Funders Network (HRFN), Instituto Clima e Sociedade, PANTHA REA Foundation, Porticus, Rede Comua, Samdhana Institute, Skoll Foundation, Synchronicity Earth, The Gaia Foundation, Thousands Currents, Wellspring Philanthropic Fund, Fundo Casa, Fondo Socioambiental Emerger Colombia, and Fundación Socioambiental Semilla Bolivia.